Here's a brief look at up and coming Post Apocalyptic movies and TV being released next year, in 2017.  If you know of anything we are missing let us know in the comments.
Mark your calendars! Here are post-apocalyptic TV & movies you won't want to miss in 2017.
Click To Tweet
Resident Evil: The Final Chapter- January 27, 2017
Hostile: 2017
"After a worldwide epidemic, most of the planet's population is killed. Only a few thousand have survived and are struggling to find food and shelter. But they're not alone: they have to hide from strange creatures that go hunting at night.
Juliette, a young woman whose life has taught her to handle things on her own, is the only one in her group to have the guts to go anywhere near cities to find food. Unfortunately, on her way back to the camp one afternoon, she loses control as she's driving. She wakes up upside down, stuck in her car with a broken leg, in the middle of the desert, and it's nighttime…"
The Tribe: 2017
Cargo: 2017
"In a desperate bid to outrun a violent pandemic, Andy and Kay have holed up on a houseboat with their one-year-old daughter, Rosie. Their protected river existence is shattered by a violent attack, which sees Kay tragically die and Andy infected. Left with only 48 hours before he transforms into one of the creatures they have fought so long to evade, Andy sets out on a precarious journey to find a new guardian for his child. A flourishing Aboriginal tribe are Rosie's best chance of survival – but with their merciless attitude toward the afflicted, they also pose a grave threat. A young Indigenous girl becomes Andy's only chance of safe passage into this sacred community. But unfortunately the girl has no desire to return to her people – she is on a quest to cure her own infected father by returning his stolen soul. Each in their own way is seeking salvation… but they will need to work together if they hope to achieve it."
War for the Planet of the Apes: July 14, 2017
Patient Zero: February 17, 2017
"In the pandemic thriller, Patient Zero, humanity is battling intelligent, adrenaline-fueled creatures born from a viral super-strain. After being bitten, human survivor Morgan (Matt Smith) realizes he is asymptomatic and can communicate with the infected, leading the last survivors on a hunt for Patient Zero and a cure."
Last Broken Darkness: 2017
Blade Runner 2049: October 6, 2017
Scorched Earth: 2017
"After the Earth suffered an environmental collapse and billions died, mankind has finally re-established a rudimentary society, with a new set of laws for the ravaged wastelands. Atticus Gage is a bounty hunter who is very similar to the criminals he hunts. When Gage is presented with the bounty of a lifetime, he cannot resist, and goes off in search of the most wanted criminal in these badlands."
Scorched Earth 2017
Future World: 2017
The movie is set in the barren landscape of a post-apocalyptic world, where a young Prince from the Oasis (one of the last known safe-havens) and a robot named Ash go on a daring journey of self-discovery – one that winds through the violent and desolate world of the Wastelands.
Future World (2017)
The Handmaid's Tale Mini-Series (Hulu): April 26, 2017
Set in a dystopian future, a woman is forced to live as a concubine under a fundamentalist theocratic dictatorship. A TV adaptation of Margaret Atwood's novel.
Colony Season 2 (USA): 
The Walking Dead Season 7 Part 2 (AMC): February 12, 2017
Ash Versus Evil Dead Season 3 (Starz): Fall 2017
"I can't say much because we're going to try and do some crazy sh–," he explains. "But we're probably going to crack more into Ash's big picture story. He is foretold in an ancient book. He's not just some guy in a crappy trailer home. There is a myth to Ash, there is a story, and so we want to explore a little more of that Joseph Campbell, big picture story. Why him? Why that guy? Why is he chosen to save the world?"
Z Nation Season 4: Fall 2017
"Syfy is staying in Z Nation.
The NBCUniversal-owned cable network has renewed the zombie apocalypse drama for a fourth season, The Hollywood Reporter has learned. Season four will again consist of 13 episodes and will air in 2017."
12 Monkeys Season 3: Summer 2017
'12 Monkeys' renewed for season 3 — exclusive
The 100 Season 4 (CW): February 1, 2017
https://www.youtube.com/watch?v=z3koIh0Izwk
The Leftovers Season 3 (HBO): April 2017
A Special Message from the Creators of the Leftovers
The Last Ship Season 4 (TNT): Fall 2017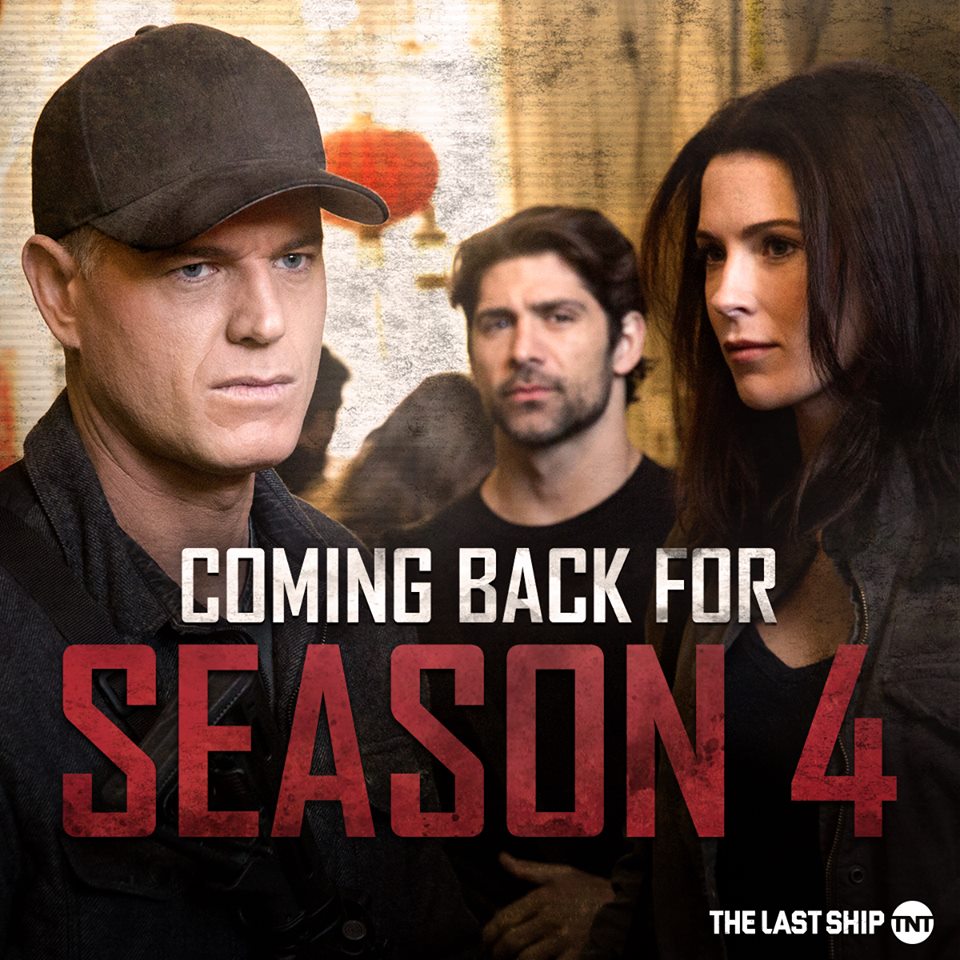 "The Last Ship" Season 4's storyline will be centered on the lives of the USS Nathan James' navy sailors. Starring Eric Dane as Capt. Tom Chandler, the show also boasts of the presence of Bridget Regan (playing Sasha Cooper) and Adam Baldwin as Capt. Mike Slattery."
Comic-Con 2016: 'Last Ship' panel teases season 4 beginnings, character's return
See anything we missed? Let us know in the comments below!